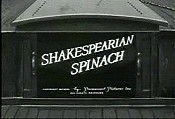 Shakespearean Spinach
(1940) is the 76th
Fleischer Studios
Popeye
cartoon.
Plot
Romeo and Juliet is being performed at the Spinach Theatre. Former Romeo actor Bluto arrives to find a poster that announces Popeye is to play Romeo along with Olive Oyl as Juliet. He tears it off to reveal another of Bluto with a note saying he has been laid-off for being a ham. Bent on revenge, Bluto enters through a side door. As the play begins, Popeye and Olive recite Shakespeare's text in song. Bluto tries to sabotage it by moving the spotlight around, and abusing the snow and lightning machines, but "Romeo" uses the snow as a stair to climb to "Juliet"'s balcony, and otherwise punches the lightnings into diamond pieces for her to wear. Popeye is eventually spirited away for the usurper to squeeze into his costume and enter the stage, hamming it up. Olive improvises some lines to shoo the monkey-with-a-beard away, but he persists, bent on forcibly kissing her. Donning a surplus Juliet costume, Popeye comes to Olive's aid, replacing her at the stage. Romance is now laced by punches, and Bluto seizes the chance to enact Juliet's death scene, but Olive saves the day by sending a funeral arrangement made of spinach Popeye's way. The public is delighted (and dizzied) by the ensuing rough performance. Their costumes now swapped, the beaten "Juliet" is sent back to "her" balcony while Popeye's Romeo gets the girl, Olive Oyl.
External links
Ad blocker interference detected!
Wikia is a free-to-use site that makes money from advertising. We have a modified experience for viewers using ad blockers

Wikia is not accessible if you've made further modifications. Remove the custom ad blocker rule(s) and the page will load as expected.