Not to be confused with Shape Ahoy.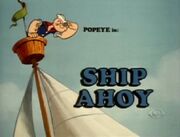 "
Ship Ahoy
" is an episode from
The All-New Popeye Hour
's "
The Adventures of Popeye
" segment for
Hanna-Barbera Productions
in association with
King Features Syndicate
. It first aired on December 2, 1978. The producer was Art Scott and it was directed by George Gordon, Carl Urbano and Rudy Zamora.
Popeye
was voiced by
Jack Mercer
and
Bluto
was voiced by
Allan Melvin
.
Plot
Popeye takes
his nephews
out on his
boat
to the open ocean. He plans to teach them about sailing a boat on the high seas. Unfortunately, Bluto has other ideas and tries to ruin their day. However, Popeye and his four little heroes teach him a lesson thanks to Popeye's
spinach
.
Episode details
This segment was from episode 13 in the series, aired in season 1, episode 13 of The All-New Popeye Hour. Below is a list of the other segments for this episode.
External links
Ad blocker interference detected!
Wikia is a free-to-use site that makes money from advertising. We have a modified experience for viewers using ad blockers

Wikia is not accessible if you've made further modifications. Remove the custom ad blocker rule(s) and the page will load as expected.