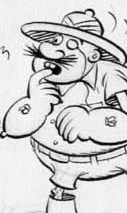 Sir Pomeroy, 10th Earl of Vauxhall is a character that featured in the daily Popeye comic strips (formerly Thimble Theatre) of the mid-to-late 1950s. He was created by writer Ralph Stein and artist Bill Zaboly.
Sir Pomeroy, or just "Pommy", was a British big game hunter that regularly went on adventures around the world, often inviting the strong sailor along to serve as his companion, until the British lord decided to retire from such perilous life (as the character was phased out). Decades later, Sir Pomeroy would be featured in the strip again during Bobby London's tenure.
External links
Ad blocker interference detected!
Wikia is a free-to-use site that makes money from advertising. We have a modified experience for viewers using ad blockers

Wikia is not accessible if you've made further modifications. Remove the custom ad blocker rule(s) and the page will load as expected.