Skom was a pirate and The Sea Hag's first mate aboard her ship, The Black Barnacle.
Character history
Creation and development in Thimble Theatre
Skom was created by E. C. Segar for Thimble Theatre amid the 1933 storyline "Plunder Island".
Biography
Plunder Island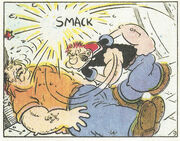 Skom faithfully served the Sea Hag in her pursuit of Professor Cringly. When Popeye boarded their vessel, the Sea Hag had Skom get rid of Popeye, however the pirate's attempts to murder Popeye were futile and he was was quickly defeated by the mighty sailor.
Ad blocker interference detected!
Wikia is a free-to-use site that makes money from advertising. We have a modified experience for viewers using ad blockers

Wikia is not accessible if you've made further modifications. Remove the custom ad blocker rule(s) and the page will load as expected.