Spinach vs Hamburgers is Popeye's 157th cartoon, released in 1948 by Famous Studios. It recycles footage from several earlier shorts from the same studio.
Plot
Olive
is taking
Pipeye, Peepeye, Poopeye and Pupeye
out for lunch, to "Popeye's
Spinach
Heaven", but they instead cross the street to go to "
Wimpy
's
Hamburger
Haven". She brings them back to Popeye's eatery, however, they refuse to try the spinach-based delicacies prepared by their uncle.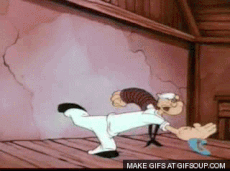 Pointing to some of his own cartoons' posters, Chef Popeye tells them how the wondrous vegetable helped him defeat
Bluto
, as seen in
The Anvil Chorus Girl
, escape from hungry
cannibals
in
Pop-Pie a La Mode
, and even face a supposed
Superman
(Bluto again), as seen in
She-Sick Sailors
. With their attempts to flee repeatedly failing, the boys agree on getting stronger by eating spinach, but only to trap Olive and Popeye into his anchor decoration and go eat their hamburgers undisturbed.
External links
Ad blocker interference detected!
Wikia is a free-to-use site that makes money from advertising. We have a modified experience for viewers using ad blockers

Wikia is not accessible if you've made further modifications. Remove the custom ad blocker rule(s) and the page will load as expected.