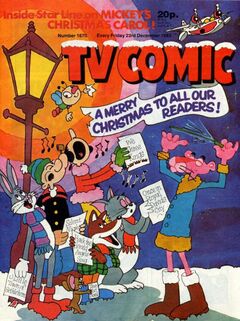 TV Comic
is a British comic book that ran weekly from 1951 to 1984, for a total 1,697 issues, published by Beaverbrook and later Polystyle Publications. It chiefly featured stories based on characters seen on television, even if they were originally from American comics (such as
Popeye
).
Popeye first appeared on TV Comic in issue 449 (1960), originally drawn by Chick Henderson. He first graced the cover later the same year, and remained as a feature until the comic ceased publication in 1984.
Comics
As seen on TV
Adam Adamant
Animal Magic
Astronut
The A-Team
The Avengers
Barney Bear
Basil Brush
Battle of the Planets
Bob Monkhouse's Mad Movies Featuring the Keystone Kops
Bootsie and Snudge
Bugs Bunny
Buzby
Cannon
Captain Pugwash
Catweazle
Charlie's Angels
Dad's Army
Deputy Dawg
The Dickie Henderson Family
Doctor Who
Droopy
The Dukes of Hazzard
Fireball XL5
The Flaxton Boys
Foo Foo and GoGo
Four Feather Falls
Hägar the Horrible
How?
The Inspector
Ken Dodd's Diddymen
Kojak
Larry the Lamb
Laurel and Hardy
Lenny the Lion
Mr. Merlin
The Milky Bar Kid
Muffin the Mule
Orlando
The Pink Panther Show
Road Runner
Rod Hull and Emu
Roobarb
Skippy the Bush Kangaroo
Sooty
Space Patrol
Star Trek
Supercar
Tales of the Gold Monkey
Target
Tarzan
The Telegoons
Tom and Jerry
Other comics
Arthur!
The Bakers' Dozen
Coco the Clown
Dad
Mighty Moth
TV Terrors
Texas Ted
The Incredible Bulk
Rudi Rabbit
Ad blocker interference detected!
Wikia is a free-to-use site that makes money from advertising. We have a modified experience for viewers using ad blockers

Wikia is not accessible if you've made further modifications. Remove the custom ad blocker rule(s) and the page will load as expected.