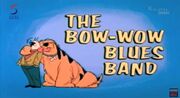 "
The Bow-Wow Blues Band
" is an episode from
The All-New Popeye Hour
's "
Dinky Dog
" segment for
Hanna-Barbera Productions
in association with
King Features Syndicate
. It first aired on November 25, 1978. The producer was Alex Lovy and it was directed by Ray Patterson and Carl Urbano. Monica was voiced by Julie Bennett, Sandy was voiced by Jackie Joseph and Uncle Dudley was voiced by Frank Nelson.
Plot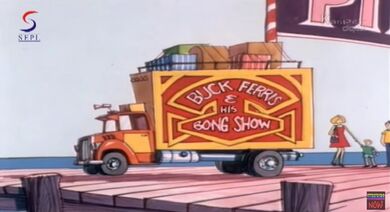 Uncle Dudley and his nieces have taken a drive to the shore to enjoy a day at the beach. Uncle Dudley keeps Dinky busy by throwing a Frisbee for him to catch, as Sandy plays a harmonica and Monica plays a guitar. They all plan to see Buck Ferris and "The Bong Show" on the pier later that day.
While Dinky plays with his Frisbee, he accidentally knocks over Mr. Ferris as he walks across the sand to talk to his stage crew. In his haste, he picks up the Frisbee instead of his hat so Dinky follows him to return it to him. He overhears Buck tell his men that the show needs one more act then leads Buck to chase him back to the girls. Buck Ferris likes their music so he asks them to be on the show but not to take Dinky because he already has a dog act.
The girls go to check in for the show but Dinky tags along and causes trouble so they send him to sit in the stands with their uncle. However, he jumps on stage and destroys all the acts anyway. Buck is so mad that he cuts Monica and Sandy off the show. The girls decide to go out and do their song with Dinky just as the last performer is doing the dog act. They end up winning three hundred dollars and a year supply of Moisty Crunch Dog Food.
Episode details
This segment was from episode 12 in the series, aired in season 1, episode 12 of The All-New Popeye Hour. Below is a list of the other segments for this episode.
External links
Ad blocker interference detected!
Wikia is a free-to-use site that makes money from advertising. We have a modified experience for viewers using ad blockers

Wikia is not accessible if you've made further modifications. Remove the custom ad blocker rule(s) and the page will load as expected.