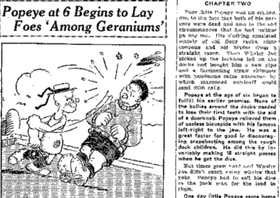 The Private Life of Popeye, or, Popeye's Life Story is a short series of promotional pieces released in March 1931 by King Features Syndicate, to increase publicity for their now famous sailor character Popeye and his comic strip Thimble Theatre. The short articles contained detailed info, trivia and artwork from E. C. Segar about Popeye's personality, his looks and his past from the moment of his birth to the day he became a sailor, mostly written from Popeye's perspective as though he were telling his life's story to an interviewer.
Contents
Chapters 1 through 4 cover Popeye's life story from his infancy to his teenage years, going from orphan to sailor in twelve years. Chapter 1 details his infancy from birth to age 4, in which he is an orphan without any family. Chapter 2 details his life from age 4 to 6 as a poor street tough who is taken in by a man named Whaler Joe. Chapter 3 presents Popeye at 12 years of age and his first time as a sailor aboard the Josie Lee. Chapter 4 focuses on explaining Popeye's personality a little, as well as showcasing his might and chivalrous nature. Chapter 5 is the last and serves as a questionnaire section, with Popeye answering questions about his personality, views and personal trivia, however, he misunderstands almost every question, either giving nonsensical answers to the ones he thinks he understands, or trying to avoid the ones he does not.
Ad blocker interference detected!
Wikia is a free-to-use site that makes money from advertising. We have a modified experience for viewers using ad blockers

Wikia is not accessible if you've made further modifications. Remove the custom ad blocker rule(s) and the page will load as expected.