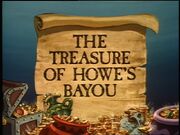 "
The Treasure of Howe's Bayou
" is an episode from
The All-New Popeye Hour
's "
Popeye's Treasure Hunt
" segment for
Hanna-Barbera Productions
in association with
King Features Syndicate
. It first aired on September 23, 1978 . The producer was Art Scott and it was directed by George Gordon, Carl Urbano and Rudy Zamora.
Popeye
was voiced by
Jack Mercer
,
Olive Oyl
and
the Sea Hag
were voiced by
Marilyn Schreffler
, and
Bluto
was voiced by
Allan Melvin
.
Plot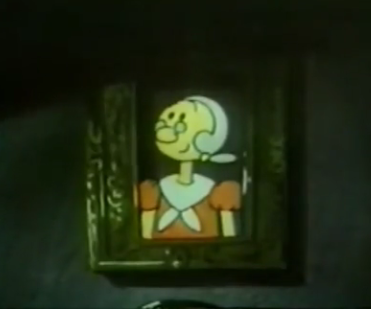 Popeye and Olive go to see about Olive's inheritance from her
Auntie Bellum
who passed away in the bayou. Of course, Bluto tries to beat them to the treasure. Bluto discuses himself to trick Olive and Popeye so he could get to the treasure first.
They get to her aunt's house in the South, where they are met by her butler Ashtray. Finally, they go to the graveyard, where they run into Maria Claire, Priestess of the Sleep God, and her zombies. She then turns Bluto into a zombie, and Popeye has to resort to the old spinach can to defeat her and her zombies. In the end, she turns out to be the Sea Hag.
Trivia
One of the disguises that Bluto uses in this episode is an impersonation of Clark Gable's role of Rhett Butler from Gone with the Wind.
Episode details
This segment was from episode 13 in the series, aired in season 1, episode 13 of The All-New Popeye Hour. Below is a list of the other segments for this episode.
External links