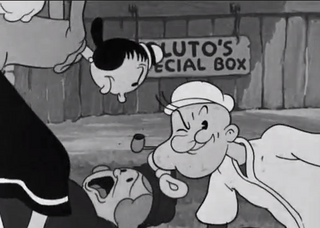 The Twisker Pitcher
is
Popeye
's 47th cartoon, released in 1937 by
Fleischer Studios
.
Plot
A baseball game is about to begin, and it is "Popeye's Pirates" against "Bluto's Bears". Olive sits in Popeye's special box, cheering for her man, while Bluto's girlfriend does the same for the hero's nemesis. After Bluto and Popeye make their entrance to the field, the latter's spinach can falls off his shirt. Bluto notices and swallows up its contents for a burst of energy. He fills the can with grass and then tosses it back to its owner with feigned politeness.
Popeye notices J. Wellington Wimpy is the umpire as he prepares to hit the ball, which is pitched by the energized Bluto, promptly resulting in three strikes. It is now the Bears' turn at the bat, with three players in a row hitting the ball and stealing as many bases. When their captain has his turn, eating the fake spinach has no effect and four runs are scored. Bluto's team keeps scoring until it is Popeye's turn at the bat again - and again he strikes out. Afterwards, his pitch is met by Bluto hitting the ball with such force that all the Pirate players are knocked down. Popeye has a last resort, however, in the form of spinach seeds. A plant quickly grows, and Bluto is no match for the more constant vegetable-eater. The match devolves into club-swinging and ball-tossing, which in fact gives Popeye the opportunity to make several home-runs. The Pirates win 22-to-21, with Bluto embedded in the scoreboard and his girlfriend forced to chant "Popeye the Sailor Man" by Olive.
External links
Ad blocker interference detected!
Wikia is a free-to-use site that makes money from advertising. We have a modified experience for viewers using ad blockers

Wikia is not accessible if you've made further modifications. Remove the custom ad blocker rule(s) and the page will load as expected.