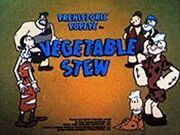 "
Vegetable Stew
" is an episode from
The All-New Popeye Hour
's "
Prehistoric Popeye
" segment for
Hanna-Barbera Productions
in association with
King Features Syndicate
. It first aired on October 24, 1981. The producer was Art Scott and it was directed by George Gordon, Carl Urbano and Rudy Zamora. Caveman
Popeye
was voiced by
Jack Mercer
, Cavewoman
Olive
was voiced by
Marilyn Schreffler
, Caveman
Wimpy
was voiced by
Daws Butler
and Caveman
Bluto
was voiced by
Allan Melvin
.
Plot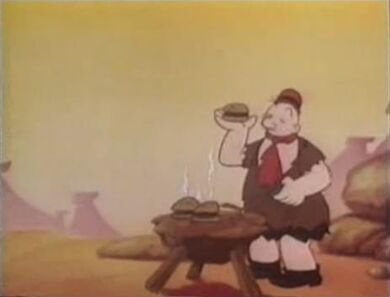 Cavemen Popeye and Bluto go to Olive's Café for lunch. When they get there, they find out she is closed for business because Wimpy has already eaten everything. She sends the two out with a shopping list, and they go about gathering giant vegetables.
After the shopping is done, they return to Olive's cafe. Before eating, Popeye has to go pick up flowers for the table. While doing this, a bee-a-saurus attacks him. Olive goes to help him and also gets attacked. With a little help from his spinach, Popeye rescues Olive. By the time they get back to the café, however, Wimpy has eaten all of the food again.
Episode details
This segment was from episode 60 in the series, aired in season 4, episode 7 of The All-New Popeye Hour. Below is a list of the other segments for this episode.
External links
Ad blocker interference detected!
Wikia is a free-to-use site that makes money from advertising. We have a modified experience for viewers using ad blockers

Wikia is not accessible if you've made further modifications. Remove the custom ad blocker rule(s) and the page will load as expected.