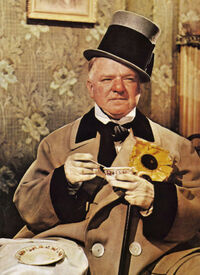 W. C. Fields (born William Claude Dukenfield; January 29, 1880 – December 25, 1946) was an actor, entertainer and writer from Hollywood's Golden Age who was well known for his comedy skits, vaudeville acts, radio shows and a bright red nose which was the source of many humorous but loving caricatures of the actor.
He was also well know for his comic persona, which he often played as a drunk and obnoxious man, but he was actually a nice guy deep down and had a very surly voice, which would be the inspiration for Daws Butler's vocal portrayal of J. Wellington Wimpy in Hanna-Barbera Productions' The All-New Popeye Hour.
Ad blocker interference detected!
Wikia is a free-to-use site that makes money from advertising. We have a modified experience for viewers using ad blockers

Wikia is not accessible if you've made further modifications. Remove the custom ad blocker rule(s) and the page will load as expected.