You're a Sap, Mr. Jap is a 1942 one-reel animated cartoon short subject released by Paramount Pictures. It was the first cartoon featuring Popeye the Sailor in a series produced by Famous Studios, which took over the Popeye theatrical franchise from Fleischer Studios.[1] It is one of the best-known World War II propaganda cartoons, and also one of the few Popeye cartoons to not include either Bluto, Olive Oyl, or Wimpy.
Plot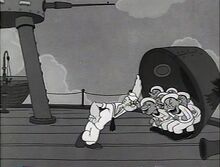 The cartoon, which gets its title from a novelty song written by James Cavanaugh, John Redmond and Nat Simon, finds Popeye singlehandedly defeating the crew of a Japanese battleship in the Pacific Ocean. The cartoon was kept out of commercial release for years due to its racially offensive caricaturing of the Japanese and to the climactic sequence where the Japanese naval commander commits suicide by drinking gasoline and consuming lit firecrackers.
However, it re-emerged in a November 2008 DVD release of Popeye cartoons produced between 1941 to 1943.[1][2][3]
Gallery
Notes
In the Public Domain in the United States.
References
↑

Daily Lives of Civilians in Wartime Modern America. Jeanne T. Heidler. Greenwood Publishing Company. Page 89.
External links
Ad blocker interference detected!
Wikia is a free-to-use site that makes money from advertising. We have a modified experience for viewers using ad blockers

Wikia is not accessible if you've made further modifications. Remove the custom ad blocker rule(s) and the page will load as expected.