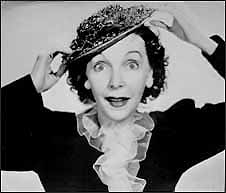 ZaSu Pitts (born Eliza Susan Pitts; January 3, 1894 – June 7, 1963) was a famed film actress of drama and comedy from the Silent Film era and one of the few whose career successfully continued after the arrival of sound pictures, at which point she became better known for her comedy. Her mannerisms and catchphrases (most especially her "Oh Dear") were the inspiration for Mae Questel's vocal portrayal of Olive Oyl in the Fleischer Studios Popeye cartoons.
Ad blocker interference detected!
Wikia is a free-to-use site that makes money from advertising. We have a modified experience for viewers using ad blockers

Wikia is not accessible if you've made further modifications. Remove the custom ad blocker rule(s) and the page will load as expected.